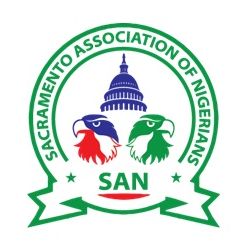 Sacramento Association of Nigerians
SAN was formed in 1991 as a non-profit 501(c)(3) national association by a group of well-meaning and patriotic Nigerians led by the late Dr. Newton Ekpo, its first president and later its first BOD (Board of Directors) Chairman as a way to reposition, and bring meaning to Nigeria's coat of arms: "unity and faith, peace and progress" to all Nigerians in our new found home here in the Sacramento region of this great state, California. This was premised with the understanding that there is a need to forge unity, faith, peace and progress amongst all Nigerians and friends of Nigeria to showcase Nigeria's huge, diverse cultural heritage with all.

And as such, SAN continues to wax stronger in pursuit of these laudable and achievable goals as we continue to forge and bring value to our families, friends and the wider community we serve.

The goal of SAN is to make it a resource for new Nigerian immigrants, to bring families together, provide medium where our growing children and young adults can relate to each other and also, as a medium to keep the family unit stable through programs offered by, and sponsored by SAN.

Sacramento Association of Nigerians (SAN) established in 1991, is a non-profit association of citizens and residents of Nigerian descent in the Greater Sacramento region. It provides community support for members and friends of Nigeria in our community through various outreach activities year round.